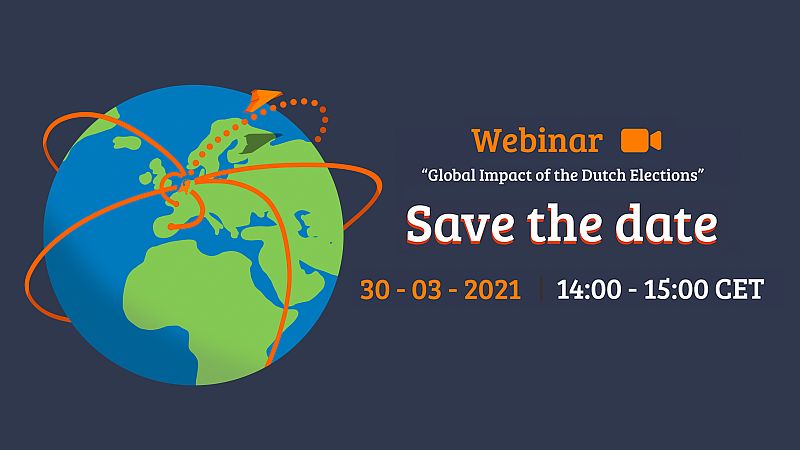 Elections will be held in the Netherlands from 15-17 March. The Netherlands is a country with a strong focus on export. The outcome of the upcoming Dutch elections (15-17 March) will significantly impact international business activities. This is why the Netherlands China Business Council is delighted to support the webinar: Global Impact of The Dutch Elections on March 30th from 14:00-15:00.
Join us for a keynote speech of Ingrid Thijssen, president of VNO-NCW, who will reflect on the elections' results and its impact on doing business internationally. The speech will be followed by a panel discussion with experts such as Cees Westera, Managing Partner at Public Matters, Rem Korteweg, Senior Research Fellow at the Clingendael Institute, Frank Heemskerk, Secretary General ERT and moderator Stefan Wijers, and many others who will shine their lights on the election outcome from different perspectives.
Organising Partners
This event is an initiative of the International Chambers in the Netherlands, NLinBusiness and the NL Business Hub network. Together they represent over 40 organisations active in the Dutch Bilateral Trade in the Netherlands and abroad.
British Netherlands Chamber of Commerce
CCI France Pays-Bas
Chamber of Commerce NL – Turkey foundation
Danish Dutch Chamber of Commerce
Duits-Nederlandse Handelskamer
Finnish Dutch Chamber of Commerce
Ireland Netherlands Business Association
Italian Chamber of Commerce for NL
Netherlands Canada Chamber of Commerce
Netherlands China Business Council
Netherlands Hong Kong Business Association
Netherlands India Chamber of Commerce & Trade
Netherlands-Vietnam Chamber of Commerce
Norwegian Dutch Chamber of Commerce
Polish Chamber of Commerce in NL
Southern African NL Chamber of Com.
Swedish Chamber of Commerce in NL
Benelux Chamber of Commerce in China | East China | Shanghai
Benelux Chamber of Commerce | South China | Pearl River Delta
Dutch Brazilian Chamber of Commerce
Dutch Business Association Turkey
Dutch Business Association Vietnam
Dutch Business Network Indonesia
Dutch Chamber of Commerce in Hong Kong
Dutch Chamber of Commerce in the Philippines
Dutch Chamber of Commerce Singapore
Dutch Portuguese Chamber of Commerce
Holland House Chili
Holland House Colombia
Holland House Mexico
Malaysian Dutch Business Council
Nederlandse Kamer van Koophandel voor België en Luxemburg
Netherlands Business Council France
Netherlands Polish Chamber of Commerce
Netherlands Romanian Chamber of Commerce
Netherlands Thai Chamber of Commerce
NL Business Hub Munich
The Netherlands British Chamber of Commerce
The Netherlands Business Council UAE
The Netherlands Chamber of Commerce in Japan
NLinBusiness
A link to register for the webinar will be mailed to you shortly